How to authenticate and legalize translated documents in Toronto, Ontario
*Bear in mind that the authentication and legalization of translated documents is not the same thing as the authentication and legalization of the original documents themselves*
If the translation of a document needs to be authenticated and legalized for a procedure in a Spanish-speaking country, these are the steps to be taken:
1. Have your document translated and notarized/ certified.
2. Take the notarized translation to the ODS (Official Document Services) office to authenticate the signature and seal of the notary. This office is located at 700 University Ave, on the sixth floor. The closest subway station is Queens Park on the University-Spadina (yellow) line and the main intersection is College and University. The cost of authentication is $16 cdn for each notarization (taxes already included).
If the translations of the document that you want to legalize at the consulate are not for the same procedure, then a notarization for each document/ procedure is necessary.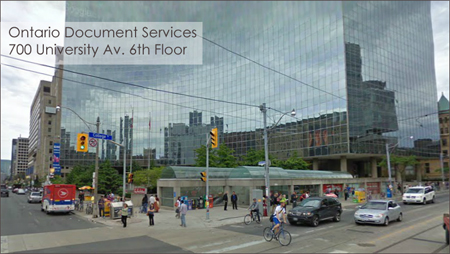 This is an example of the authentication of the signature of a notary. To enlarge the image, click on the image itself.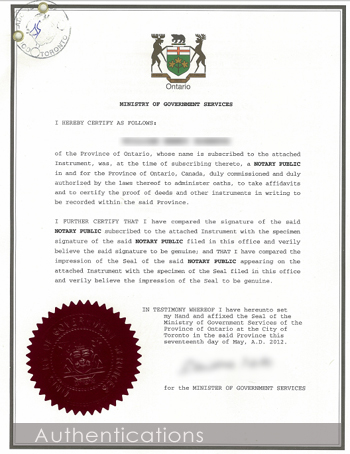 3. Once you have authenticated the document, go to the consulate of the country that you want to do the procedure in. Every consulate has different fee rates for legalizations. It is important that you find out what the charge is before you go. The Ecuadorian consulate, for example, only accepts American dollars as the form of payment. If you know this before hand, you will be prepared and not have to have wasted your time in the line-up on account of having to make an unexpected trip to a bank.
4. If all has gone well, you should have the legalization in your hands to finish the procedure so that you can get married, send donations, immigration documents, inheritances, etc…
The key for doing these procedures without the headache is to be informed before you go. If I can be of any assistance, please contact me and I will gladly help you if I can to clear up any doubts that you may have.
ABOUT THE AUTHOR
Jonathan Whiteside es un traductor profesional que trabaja en los idiomas Español e Inglés. Él vive en Toronto, Ontario.

Jonathan Whiteside is a professional translator working in the English and Spanish languages. He lives in Toronto, Ontario.