Consulado Virtual Ecuador
Consulado Virtual Ecuador
Legalizar Traducciones
Después de registrarse en el consulado virtual dele click en Trámites Consulares.

Luego dele click en el siguiente:

Después le preguntará en qué país se encuentra, en cuál consulado quiere hacer el trámite y qué tipo de trámite quiere hacer. En este caso es la legalización de una traducción.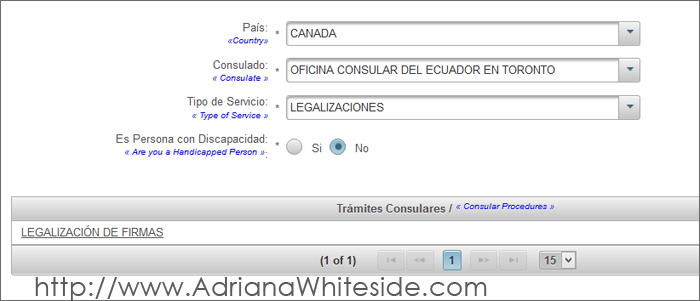 Le preguntará cómo desea recibir su documento, en esete caso fue en persona.

Después le pedirá que cargue su archivo PDF, para hacer esto dele click en adjuntar archivo. El sistema no acepta otro formato, así que asegurese the preparar la documentación en 1 solo archivo PDF Incluyendo el scaneo de su identificación. Porque no le deja adjuntar mas que un solo archivo.
También el archivo PDF tiene la limitación que no puede ser más grande que 10mb.

Una vez que ha adjuntado el archivo, esta es la información que aparece.

Luego dele click en enviar solicitud. Luego recibirá un email del consulado indicándole que ha recibido su documentación y que pronto le contactarán.
Espero esta información le sea de ayuda. Si puedo ayudarle con alguna otra información, contácteme y con gusto le ayudaré a aclarar sus dudas.
ACERCA DEL AUTOR
Adriana Whiteside es una traductora profesional que trabaja en los idiomas Español e Inglés. Ella vive en Toronto, Ontario.

Adriana Whiteside is a professional translator working in the English and Spanish languages. She lives in Toronto, Ontario.