Translation of Proof of Vaccination – Covid 19 – ArriveCAN
As of July 5, 2021, the government of Canada will allow people who are eligible to travel to Canada to enter without the need to quarantine in a hotel, as long as they meet certain requirements.
One of these requirements is that the person show that he/she has received the full series of an accepted Covid-19 vaccine. To demonstrate this, it is necessary to upload the proof of vaccination to the ArriveCAN application and if this proof is not in English or French, it is necessary to upload its certified translation.
We can gladly help you with the certified translation of the proof of vaccination. We only need a scanned copy or photo of your document and we can give you a no-obligation quote, you may send it to adriana.whiteside@gmail.com
We will provide you the scanned translation and the original if necessary.
Accepted Vaccines for fully vaccinated status in Canada
Pfizer-BioNTech COVID-19 vaccine
Moderna COVID-19 vaccine
AstraZeneca/COVISHIELD COVID-19 vaccine
Janssen (Johnson & Johnson) COVID-19 vaccine – single dose
The certificate/proof/voucher must indicate that you received the vaccines at least 14 days before the date you plan to travel to Canada.
Apart from proof of vaccination, you must provide proof of a negative COVID-19 test result (no exemptions).  This must be a coronavirus molecular test.
It is important to review the specific requirements for each person, since the government has established different requirements depending on the circumstances of your entry to Canada. For more information you may visit the official link.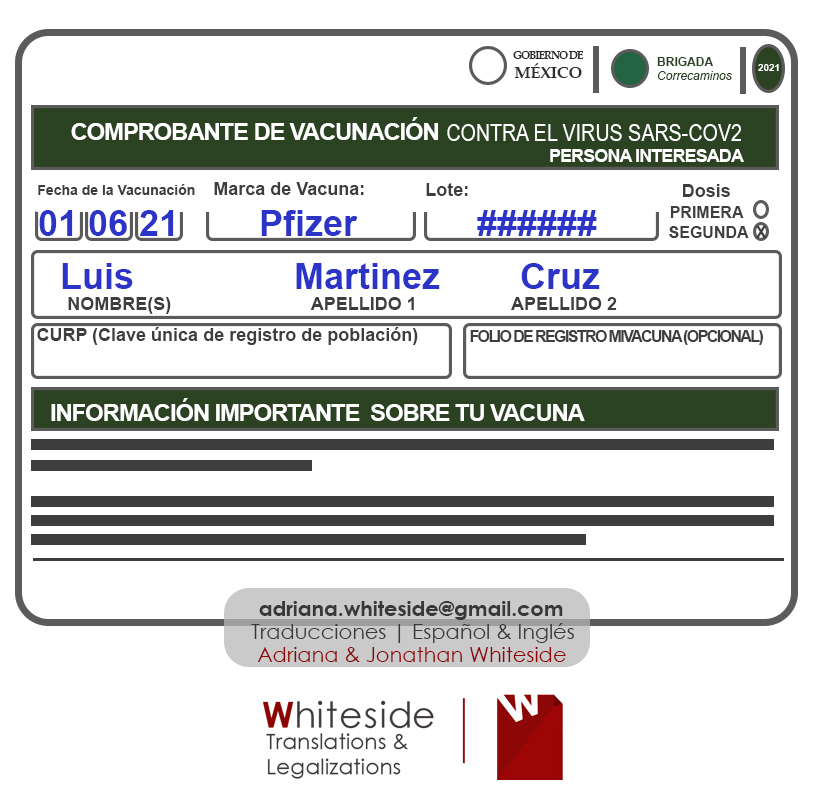 You must present an accepted test result (paper or electronic proof) which must include:
Traveller name and date of birth
Name and civic address of the laboratory/clinic/facility that administered the test
The date on which the test was conducted
The type of test conducted
The test result
You must show proof of your test results even if you:
have tested negative for COVID-19 previous to the 72 hour period
have been vaccinated for COVID-19
recovered from COVID-19 and no longer test positive
recovered from COVID-19 and continue to test positive
At this time, travellers should have their test performed at a reputable laboratory or testing facility (i.e., one recognized by the local government or accredited by a third party, such as a professional organization or international standards organization).
We translate documents from all Spanish-speaking countries and legalize documents at their consulates:
Argentina, Bolivia, Chile, Colombia, Costa Rica, Cuba, Ecuador, El Salvador, Spain, Guatemala, Equatorial Guinea, Honduras, Mexico, Nicaragua, Panama, Paraguay, Peru, Dominican Republic, Uruguay, Venezuela.
ABOUT THE AUTHORS
Adriana & Jonathan Whiteside are professional translators who work in the Spanish and English languages. They live in Toronto, Ontario.

Whiteside Translations
1377 Weston Rd.
2nd Floor, Unit 1
Toronto, ON
M6M 4S1
Jonathan and Adriana Whiteside
(416) 244 4831
whiteside777@gmail.com
adriana.whiteside@gmail.com