Portuguese to English Translations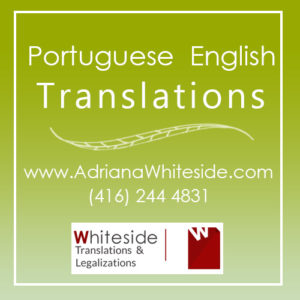 Official documents are a special area of translation. I understand how important they are and how to translate and format them to get the best results.
My translations from Portuguese to English are accepted by Immigration, Police, Customs, Courts, OHIP, CRA,  Citizenship Office and Consulates. I can also provide certified translation affidavits for legal and court submissions. Your important documents are in the best hands.
To get things started, just send a scan of the documents to the email below and I'll quickly be in touch with all the information you need.
The price of translation starts at $30 per page + $50 for the certification of all the documents.
For example if you need to translate 3 birth certificates, your total would be $140. If you can't come to pick up the translation I can send it via Xpress Post.
If you have any questions please contact me at, I'd be happy to give you a no-obligation quote.
Adriana Whiteside
contact@AdrianaWhiteside.com
(416) 244 4831
Toronto, Ontario

Português Inglês Tradutor – Toronto
Traduções  juramentadas em inglês português – Toronto

According to Citizenship and Immigration Canada these are the requirements for the translation of documents:
Links of Interest
Consulado Geral do Brasil em Toronto
77 Bloor Street West
Suite 1109
Toronto, ON M5S 1M2
Tel: (416) 922 2503
email: cg.toronto@itamaraty.gov.br
Open to the public: from 9 am to 1:00 pm