Authentication and legalization of documents in Ontario - Toronto and Ottawa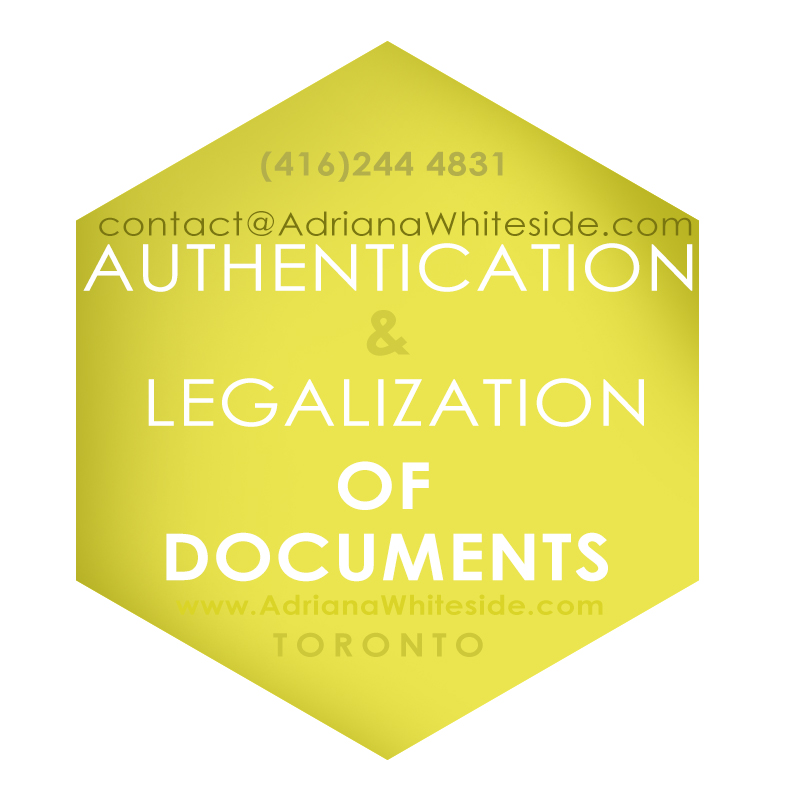 We can provide you with the service of authentication and legalization of documents in Toronto.
The service is quick and reliable. It will save you the time and frustration of doing it yourself, especially if you are outside of Canada. Wherever you are located we can send it to you by courier service.
Our mission is to facilitate our clients' life journey through the translation and legalization of their documents.
If you have any questions or doubts don't hesitate to contact us at contact@AdrianaWhiteside.com, we'll be more than happy to answer them.
Authentication
To be able to use any Canadian document abroad, it is necessary to show the authenticity of that document by a certificate of authentication issued by a Canadian government agency. To be more exact, what is being authenticated is the seal and signature of the notary or commissioner for taking oaths, who attests to the authenticity or originality of the document. Keep in mind that the Canadian government agency is not authenticating the content of the document, only the notary's signature and seal.
Legalization
As well after it is authenticated, it then has to be "legalized" by that country's embassy or consulate here in Canada. This means that the country's government officially recognizes what the Canadian government has authenticated.
Be sure that you are aware of the requirements of the particular country and its embassy with regards to the exact requirements of the authentication. For example, some governments do not require you to send the original document because its originality has been attested to by the notary. However, for some governments this is not enough and your original document must be included for the legalization.
Types of Documents
These are examples of document that need to be authenticated and legalized in order to be of use abroad:
birth certificates
marriage certificates
power of attorneys
Article of Incorporation
Bank Documentation
Resolutions
business contracts
Police clearance certificates
death certificates
diplomas
school transcripts
degrees
affidavits
passports
You should be aware that any document that was initiated here in Ontario can be authenticated and legalized in Toronto and its respective consulate, in most cases. However if the document was initiated outside of Ontario , then it needs to be authenticated and legalized either in that province or in Ottawa, Canada's capital.
For more information contact us at contact@AdrianaWhiteside.com
Adriana Whiteside
Professional translator working in the English and Spanish languages.
Toronto, Ontario.