Spanish/English Translations – St. John's, Newfoundland and Labrador
we deliver via Xpress Post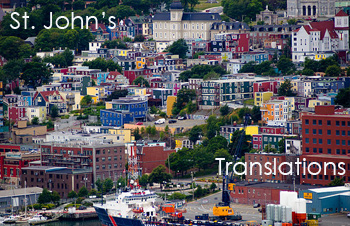 Official documents are a special area of translation. I understand how important they are and how to translate and format them to get the best results. My  Spanish/English translations are accepted by Immigration, Police, Customs, Courts, Citizenship Office and Consulates. I can also provide certified translation affidavits for legal and court submissions. Your important documents are in the best hands.
To get things started, just send a scan of the documents to the email below and I'll quickly be in touch with all the information you need.
The price of translation starts at $30 per page + $50 for the certification of all the documents.
For example if you need to translate 3 birth certificates, your total would be $140. If you can't come to pick up the translation I can send it via Xpress Post.
If you have any questions please contact me at
Adriana Whiteside
contact@AdrianaWhiteside.com
(416) 244 4831
"I am a Spanish and English translator and Interpreter and I offer certified translation services of the highest quality and at the same time at competitive prices" – Adriana
We deliver throughout Canada
British Columbia, Alberta, Saskatchewan, Manitoba, Ontario, Quebec, New Brunswick, Prince Edward Island, Nova Scotia, Newfoundland, Labrador, Yukon, Northwest Territories and Nunavut.
We translate documents from all the Spanish speaking countries:
Argentina, Bolivia, Chile, Colombia, Costa Rica, Cuba, Ecuador, El Salvador, Spain, Guatemala, Guinea Ecuatorial, Honduras, Mexico, Nicaragua, Panama, Paraguay, Peru, Dominican Republic, Uruguay, Venezuela.
Traducimos documentos de todos los países de habla hispana:
Argentina, Bolivia, Chile, Colombia, Costa Rica, Cuba, Ecuador, El Salvador, España, Guatemala, Guinea Ecuatorial, Honduras, México, Nicaragua, Panamá, Paraguay, Perú, República Dominicana, Uruguay, Venezuela.
Certified and Notarized Translations
Spanish Translations and English Translations
Traducciones Certificadas y Notarizadas
Birth Certificates

Marriage Certificates

Divorce Certificates

Death Certificates

Contracts

Business Proposals

Diplomas and Transcripts

High School Certificates

Personal Correspondence

Video and audio transcription




Reportes médicos (OHIP)

Passports

Immunization Cards

Medical Reports

Police Clearances

Summaries – Immigration

Newspaper Articles




Technical Manuals

Pharmaceutical Manuals

Immigration histories


Web pages

legalizations

Authentications




Actas de Nacimiento

Actas de Matrimonio

Actas de Divorcio

Actas de Defunción

Contratos

Propuestas de Negocios

Diplomas y Expedientes Académicos

Certificados de Preparatoria

Correspondencia Personal

Transcripción de audio y video

Medical Report (for OHIP)

Pasaportes

Tarjetas de vacunación

Reportes médicos

Antecedentes No Penales

Resumenes – Inmigración

Artículos de Periódicos

Manuales técnicos

Reportes de laboratorios farmacéuticos

Historias de Inmigración

Páginas web

Legalizaciones

Autenticaciones