Certified Passport Translation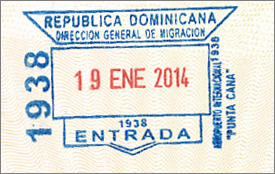 Passport Stamp Sample
Immigration Canada now requires for the processing of Permanent Residence and Citizenship applications, the translation of all passports used by an applicant from the time of the initial arrival in Canada. Specifically, Immigration Canada requires that all exit and entry stamps/seals which are not in English or French be translated into one of the official languages. These stamps are the ones that immigration officials at international airports stamp when one enters or leaves a country.
I offer the service of certified translations of passports stamps from Spanish to English and English to Spanish.
---

I  have years of experience doing passport stamps translations, this is why I know the format that Immigration Canada Requires.  With my translations you can be confident that your translation will be accepted by the Government of Canada.

---
Price
I charge $30 per passport + $50 for the certification of all the passport you might need translated.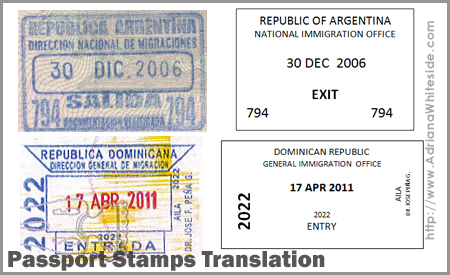 Note:
The Certificate of Translation (which makes the translation legal, or "official") is NOT the same as a Certified True Copy. This procedure is required for certain applications by Immigration Canada wherein a colour photocopy of all the pages of the passport is requested and that this photocopy be notarized as a true copy of the original.
We offer this service for those people who are unable to do it themselves. It requires that the passport(s) be left in our possession. Once the photocopy has been certified, the passport(s) will be returned to you along with the translation – if this service was also requested. If you are unable to drop off the passports in person, you may send them registered by any of the courier services.
Adriana Whiteside
contact@AdrianaWhiteside.com
(416) 244 4831