I am a Spanish and English translator and interpreter living in Toronto and I offer translation services of the highest quality and at the same time at competitive prices.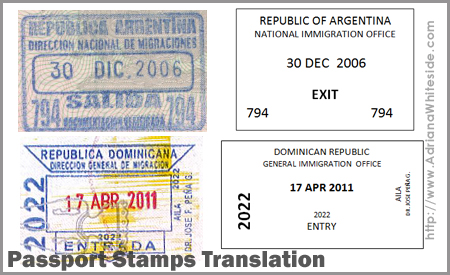 Passport Stamps Translation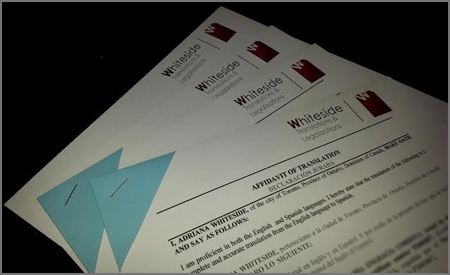 Affidavit of Translation
Everything you need for your wedding abroad in a Spanish speaking country: Cuba, Domican Republic, Mexico, Colombia, Ecuador.
Legal translations, Weddings abroad translations, Prenuptial Agreement, translations, Wedding translations, legalizations, consulate documentation, official translations, certified spanish translations, translations of permanent residence applications, translations for insurance claims and OHIP.
I offer translation services from Spanish to English and English to Spanish.
I provide competitive pricing along with the highest quality of translation services to ensure your full satisfaction.
Accepted payment methods : Email money transfer (Interac e-transfer) , bank transfer, cash, cheque and money order.
Types of Certified and Notarized Translations
Spanish Translations and English Translations



Spanish & English Translation Services in Toronto, Ontario
Servicio de Traducciones en Español e Inglés en Toronto, Ontario
Links of Interest

CONSULATES

Consulate of Cuba in Toronto / Consulado de Cuba en Toronto
5353 Dundas West, Suite 205, Toronto, ON, M9B 6H8
Tel: (416) 234-8181
Open to the public: from 10:00 am to 1:00 pm

Consulate of Spain in Toronto / Consulado de España en Toronto
2 Bloor Street East
Suite 1201
Toronto, ON M4W 1A8
Tel: 416-977-1661
Open to the public: from 9 am to 12:30 pm

Consulate of Ecuador in Toronto / Consulado de Ecuador en Toronto
151 Bloor St, West, Suite 450
Toronto, Ontario
Tel: (416) 968 2077
Open to the public: from 10:00 am to 1:00 pm

Consulate of Mexico in Toronto / Consulado de México en Toronto
11 King Street West, Suite 350
Toronto, Ontario,
Tel:(416) 368-2875
Open to the public: from 9:00 am to 12:30 pm




We deliver throughout Canada
British Columbia, Alberta, Saskatchewan, Manitoba, Ontario, Quebec, New Brunswick, Prince Edward Island, Nova Scotia, Newfoundland, Labrador, Yukon, Northwest Territories and Nunavut.
Traducciones Legales , Traducciones de Negocios, Traducciones Oficiales, Traducciones Certificadas en Español, Traducción de Documentos en Español, Traducciones Profesionales, Documentos en Español Notarizados, Traducciones de Manuales Técnicos, Expedientes Académicos, Traducción de Documentos de Inmigración, Traducciones Gubernamentales, Traducciones para la Residencia Permanente, Immigration Translations, Business Translations, Certified Passport Translations, Spanish Document Translations, Official, Passports, Professional Translations, Spanish Notarized Documents, Spanish and English Translations services, Spanish Translator, Destination Wedding Translations for Cuba.